Packing is one of the toughest things to do while packing for a trip. Our Luggage Packing Organizer Set fixes that issue by neatly pack all your clothes tightly into our space saving bags.?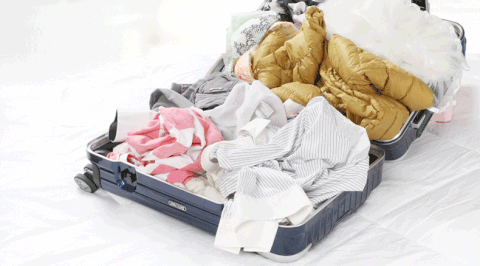 The organizer set helps you to classify your goods and keep them tidy. Simply pack your?clothing in the large net bags, while keeping your bathroom accessories and cosmetic in the zipper bags.
Your clothes and?belongings will stay wrinkle-free and not get crushed during your travels.
Made of high-quality durable waterproof Oxford material, built to withstand the wear and tears of travel.
FEATURES:
Keep?Things Organize:
The luggage organizer set can speed up your packing process?and classify your goods into different bags. Allows you to easily store and makes it easy to pack and unpack.
Luggage Compliant:
Our?organizer set is specifically designed to fully utilize your luggage space while also?fit into standard luggage compliant.
Premium Oxford Material:
The bags are made with 100% premium oxford material with breathable mesh cloth, practical and beautiful, it keeps clothes clean at all times.
Comfortable Zipper:
Zipper holding part of the soft plastic, pull smooth and let you use in satisfaction.?
SPECIFICATIONS:
Material: Waterproof?Oxford Material
Color: Blue/Gray/Green/Pink/Red
Waterproof: Yes
Closure Type: Zipper
Weight: 0.15kg
Size:

Large Net Bag: 37x27x12cm (14.57x10.63x4.72")
Medium Net Bag: 31x22x12cm (12.20x8.66x4.72")
Small Net Bag: 20x15x12cm (7.87x5.91x4.72")
Large Bag: 34x24cm (13.39x9.45")
Medium Bag: 27x19cm (10.63x7.48")?
Small Bag: 17x13cm (6.69x5.12")? ?
PACKAGE INCLUDES:
3?x Luggage Organizer Net Bag
3 x Luggage Organizer Zipper Bag??
?
Our products are sold all over the world, with a total of 25 warehouses and 6 cooperative factories around the world.

We ship to the world. Our six major logistics companies are UPS, Fedex, DHL, TNT, EMS, and postal parcels.

1. Dedicated logistics

Our dedicated line logistics is to transport the goods to the world by air charter, and then use the partner company to deliver the goods to the destination nationwide.

Delivery time
U.S., Canada 7-18 days
North America 7-28 days
France, Britain, Germany, Italy 5-15 days
Europe 7-28 days
Australia 7-18 days
Africa 10-28 days
South America 7-28 days
China, Russia, India 15-28 days
Asia 7-28 days

2. Overseas warehouse

Join eBay and Wanyitong to jointly launch Winit US warehouse, UK warehouse, German warehouse, and Australian warehouse. More storage warehouses will be launched in the future

Delivery time
U.S., Canada 1-7 days
North America 5-15 days
France, Britain, Germany, Italy 3-7 days
Europe 5-15 days
Australia 1-7 days

3. Warehouse delivery

We have built 25 warehouses in six major states around the world, including 15 shipping warehouses in North America, Europe, and Asia, 4 in Africa, and 6 in Oceania and South America. The warehouse delivery time is on working days and will not be delivered on holidays.

Delivery time

North America 7-15 days
South America 7-15 days
Europe 7-15 days
Oceania 7-15 days
Africa 7-15 days
Asia 7-15 days

Our goal is to provide you with the best transportation options, no matter where you are. Each product requires some time to be constructed and processed before being shipped. Most orders will be shipped within 1 or 3 days. However, during peak seasons, transportation takes up to 7 working days.

When you order multiple products, the order can come from different designers. In this case, you may receive your products at different times and in different packaging.


Standard insurance transportation

Dedicated logistics: Free shipping for every purchase order over $39.0. For orders less than US$39.0, we will charge a shipping fee of US$5.99 for dedicated logistics + US$2 transportation insurance = US$7.99 for shipping.

Warehouse delivery logistics: Any amount of each purchase order will charge a warehouse delivery fee of US$7.99 + US$2 transportation insurance fee = US$9.99 shipping. Or warehouse delivery expedited fee of US$13.99 + US$2 shipping insurance = US$15.99 shipping

Overseas warehouse: Any amount of each purchase order will be charged a warehouse delivery fee of US$13.99 + US$6 transportation insurance fee = US$19.99 shipping fee


Tip: Buying 2 or more products at the same time will save you a lot of shipping costs.