Sealed cans made of PET materials are more suitable for storing various foods, which are not only clean but also more hygienic, such as storing some sugar, snacks, milk powder and other foods. Its advantages are that it is easy to clean, impermeable, corrosion-resistant, has good chemical stability, and absolutely has food-level safety guarantees. It is the best material for sealed tanks.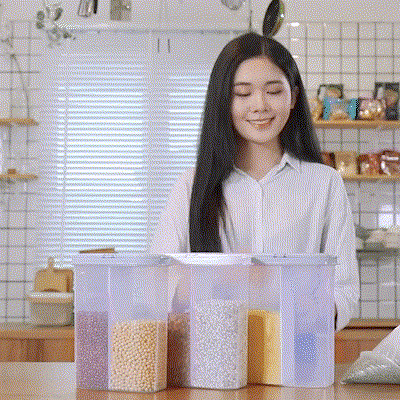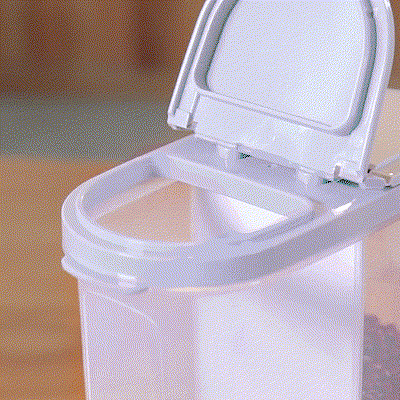 Product description
Suitable for storing grains, rice, beans, sugar, snacks, flour, nuts, grains, coffee, rice, tea, oatmeal, dried fruits, kitchen seasonings, pasta and even pet food. Never worry about them being mixed together.
Compared with traditional food storage tanks, this food storage tank is designed with detachable partitions, which can be used for multiple purposes, solves the problem of insufficient storage of a single container, and meets the different needs of customers. And kitchen organization.
The 2-cell sealed grain storage tank is made of high-quality food-grade PP and PTU materials, which is durable, non-toxic, safe, easy to clean and can be used for a long time.
product information
Color: transparent
Packing size: 9.6 x 8.2 x 4 inches
Item weight: 0.004 ounces
Product material: PP and PTU material
Package includes: 1 PC* contains a dry goods storage tank
6 PCS* contains six dry goods storage tanks
Our products are sold all over the world, with a total of 25 warehouses and 6 cooperative factories around the world.

We ship to the world. Our six major logistics companies are UPS, Fedex, DHL, TNT, EMS, and postal parcels.

1. Dedicated logistics

Our dedicated line logistics is to transport the goods to the world by air charter, and then use the partner company to deliver the goods to the destination nationwide.

Delivery time
U.S., Canada 7-18 days
North America 7-28 days
France, Britain, Germany, Italy 5-15 days
Europe 7-28 days
Australia 7-18 days
Africa 10-28 days
South America 7-28 days
China, Russia, India 15-28 days
Asia 7-28 days

2. Overseas warehouse

Join eBay and Wanyitong to jointly launch Winit US warehouse, UK warehouse, German warehouse, and Australian warehouse. More storage warehouses will be launched in the future

Delivery time
U.S., Canada 1-7 days
North America 5-15 days
France, Britain, Germany, Italy 3-7 days
Europe 5-15 days
Australia 1-7 days

3. Warehouse delivery

We have built 25 warehouses in six major states around the world, including 15 shipping warehouses in North America, Europe, and Asia, 4 in Africa, and 6 in Oceania and South America. The warehouse delivery time is on working days and will not be delivered on holidays.

Delivery time

North America 7-15 days
South America 7-15 days
Europe 7-15 days
Oceania 7-15 days
Africa 7-15 days
Asia 7-15 days

Our goal is to provide you with the best transportation options, no matter where you are. Each product requires some time to be constructed and processed before being shipped. Most orders will be shipped within 1 or 3 days. However, during peak seasons, transportation takes up to 7 working days.

When you order multiple products, the order can come from different designers. In this case, you may receive your products at different times and in different packaging.


Standard insurance transportation

Dedicated logistics: Free shipping for every purchase order over $39.0. For orders less than US$39.0, we will charge a shipping fee of US$5.99 for dedicated logistics + US$2 transportation insurance = US$7.99 for shipping.

Warehouse delivery logistics: Any amount of each purchase order will charge a warehouse delivery fee of US$7.99 + US$2 transportation insurance fee = US$9.99 shipping. Or warehouse delivery expedited fee of US$13.99 + US$2 shipping insurance = US$15.99 shipping

Overseas warehouse: Any amount of each purchase order will be charged a warehouse delivery fee of US$13.99 + US$6 transportation insurance fee = US$19.99 shipping fee


Tip: Buying 2 or more products at the same time will save you a lot of shipping costs.